Latest from Progressive Muslims United

Sunday, December 7, 2008
Posted by Faisal Alam at 2:29 PM  
From Rediff.com - December 4, 2008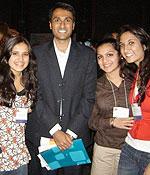 Dr Eboo Patel, second from left, with Interfaith youth activists

'Absolute perversion of Islam'

Arthur J Pais in New York | December 04, 2008 | 17:27 IST

Chicago-based interfaith leader Dr Eboo (Ebrahim) Patel had seen enough of images of the Mumbai terror attacks; he had grieved for the dead and injured, and he had wondered why such attacks took place.

There was nothing left to shock, to move him, he thought.

"And then suddenly I saw this picture of the young boy, Moshe, besides his parents' coffin in Israel," Dr Patel, executive director of Interfaith Youth Core, said of the 2-year-old child of Rabbi Gavriel Holtzberg and his wife Rivkah, who were slain by terrorists at Nariman House in Colaba, south Mumbai.

"I thought of my own son Zayd, who is almost the same age as Moshe," Dr Patel said. "And the more I thought of what had happened in Mumbai, I thought it was the absolute perversion of the cause of Islam."

Whatever the injustices, perceived or real, that prompted the attack, he said violence was not the solution.

"One does not solve the problem of the suffering of one group by inflicting suffering on another group," said the Mumbai-born Rhodes Scholar with a doctorate in the sociology of religion from Oxford University.

"The terrorists did not merely intend to kill and maim the innocent who happened to be at the Taj Mahal Hotel, the Oberoi Hotel or the Nariman House," Dr Patel said. "They intended to provoke a 'clash of civilisations', pitting Hindu against Muslim, India against Pakistan."

"The best way to honour those killed and injured in these attacks, and the best way to show solidarity with the people of Mumbai, is to work to defuse the crisis that these terrorists seek to advance," he said.

"We can do this by promoting religious pluralism -- the idea that we must respect, affirm and uphold one another's identities, and work together to advance the common good. We must take this message to the young throughout the world."

It was an elaboration of a thought he has often expressed in the past, as in an interview some years ago wherein he said, 'Only the smallest part of humanity wishes and acts upon the destruction of others. The pluralists are far larger. Those of us who believe in a world where we live together, we're far larger. The problem is we haven't made our case compelling across the world yet.'

It is this gap Dr Patel has been attempting to bridge, by bringing young men and women from different communities together and fostering interfaith understanding. As he, along with the rest of the world, monitored the Mumbai attacks as it developed, the urgency of this task was further impressed on him.

"My grandmother lived close to the Taj," Dr Patel said. "She welcomed people of all faiths in her home. She was known as Ashraf maaji (mother) to everyone, be it a Hindu, Christian or a Muslim. I learned the meaning of pluralism by watching her."

He had stayed with his grandmother for a few days some 10 years ago, along with a dear friend Kevin Coval, a Jew.

"My grandmother knew he was Jewish, and it did not bother her even for a minute."

Dr Patel, the author of Acts of Faith, a book that looks at the phenomenon of violence by young people, says his organisation is thinking of building bases in Mumbai and other Indian cities to further his aim of bringing young people of different faiths together.

"It appears that most of the terrorists involved in this incident are young people," he pointed out. "There is a youth bulge in religiously volatile regions of the world -- couple that with the phenomenon of a global religious revival, and we must acknowledge that heinous crimes like those we just witnessed are not going to cease on their own."

People with resources are training young people on the frontlines of terrorism, he points out. "Young people are being exploited by those with destructive end goals who have invested heavily in recruiting them. We need an equivalent investment in India, in Pakistan the United Kingdom, in America, in Canada to be made in young people who are focused on young people building interfaith cooperation."

Much of this is the thesis of his book.

"It is about how some young people become champions of religious pluralism while others become the foot soldiers of religious totalitarianism," he said. "Its central theme is simple: Influences matter, programmes count, mentors make a difference, institutions leave their mark."

"Every time we see a teenager kill someone in the name of God, we should picture a pair of shadowy hands behind him, showing him how to make the bomb or point the gun, giving him a manual with the prayers to say while committing murder, steadying his shaking hands with callused, steely ones, blessing him as he resolves to do the deed. And then we should ask: Why weren't the hands of people who care about pluralism shaping that kid instead of the hands of religious totalitarians?"

It is that sort of positive, benevolent influence the youth of the world lack, he believes. "We need people and groups with resources to be training young people to build relationships across difference, strengthen civil society, and serve the needs of their communities," Dr Patel says.

He believes Mumbai's need for an interfaith initiative is urgent.

"The cleaning up of the violence hit areas should involve various communities, and the healing process then would be growing in a natural way."

An opportunity to start such a project will come his way in 2009 when he, at the request of the United States government, will revisit sites in India that Martin Luther King Jr had visited 50 years ago.

"The greatest American visionary of the 20th century took great amount of inspiration from India," Dr Patel said. "Doesn't that thought inspire Indians to look at their own spiritual heritage and fight for a pluralistic society, where justice and dignity is possible for everyone?"

Complete coverage: Terror strikes at Mumbai's heart

________________________________
URL for this article:
http://www.rediff.com//news/2008/dec/04mumterror-absolute-perversion-of-islam.htm
________________________________
© 2003 rediff.com India Limited. All Rights Reserved. This material may not be published, broadcast, rewritten, or redistributed.
Posted by Faisal Alam at 2:27 PM